*** new website in progress ***
PRESS RELEASE
Fre-energy is exhibiting at the Low Carbon Agriculture Show 2022
8-9th March 2022 | NAEC, Stoneleigh - Find us at Stand 409
News Archive
December 2014
Lodge Farm's AD plant to use animal by-products for energy
Lodge Farm has become the first in the country approved to use animal by-products in an on-farm anaerobic digestion (AD) facility.
July 2014
Agriculture can resolve our ecological woes
Richard Tomlinson discusses the importance of agriculture on the
Farming Monthly National Website
March 2014
On-Farm AD: Farm Receives UK's First RHI Payment.
In a CIWM journal article, Richard Tomlinson, farmer at Lodge Farm and managing director of fre-energy, discusses on-farm anaerobic digestion (AD), why the farm is the first in the UK to receive income under the Renewable Heat Incentive (RHI) and asks if we should be using land for food or fuel?
For more information, see here: CIWM Journal Online
Additional coverage:
Greener Business Website
Farming Futures Website
Farming Futures Blog
Richard reveals all to MRW!
Richard Tomlinson reveals all in an interview for the March issue of Materials Recycling World.
January 2014
On-farm AD gives poultry and dairy farms a powerful boost.
The Farmers Guardian takes a look at on-farm AD, including the Fre-energy AD plant at Mountstephen Farm.
For more information, see here: Farmers Guardian
November 2013
Practical Farm Ideas magazine Editor enthused by what he sees.
Having attended an Open Day and Workshop at Lodge Farm in October, where he saw the fre-energy AD plant in full swing, Mike Donovan, Editor of "Practical Farm Ideas" was moved to inform the farming community of the company's award winning renewable energy solution. In the latest issue of the magazine (Volume 22, Issue 3; Nov 2013 to Jan 2014) Mike provides a detailed study into how the system works and how it can benefit farmers all over the UK.
Richard Tomlinson selected as finalist for prestigious Award.
Richard Tomlinson, fifth generation family farmer at Lodge Farm, Holt, last night was selected as a finalist for a highly prestigious award at a ceremony held at the Sixways Stadium in Worcester.
For more information, see here: fre-energy Farming Business Award finalist (PDF)
October 2013
Richard Tomlinson shortlisted for "Renewables Innovator of the Year".
Fre-energy director Richard Tomlinson has been shortlisted for the "Renewables Innovator of the Year" award at the 2013 British Farming Awards.
For more information, see here: www.businessoffarming.co.uk/richard-tomlinson.html
September 2013
Should food form part of the farm AD recipe?
In September's edition of the Recycling & Waste World magazine, Richard Tomlinson looks at whether farmers and the food industry could partner in a symbiotic relationship whereby the food supply chain, from farm to table, could be managed on a closed loop basis.
Recycling & Waste World magazine
Wrexham farm hits drive-time news on local radio.
Local radio station, Heart FM, visited Lodge Farm, on the outskirts of Wrexham, earlier today to discover more about the farm's ground-breaking mini power plant.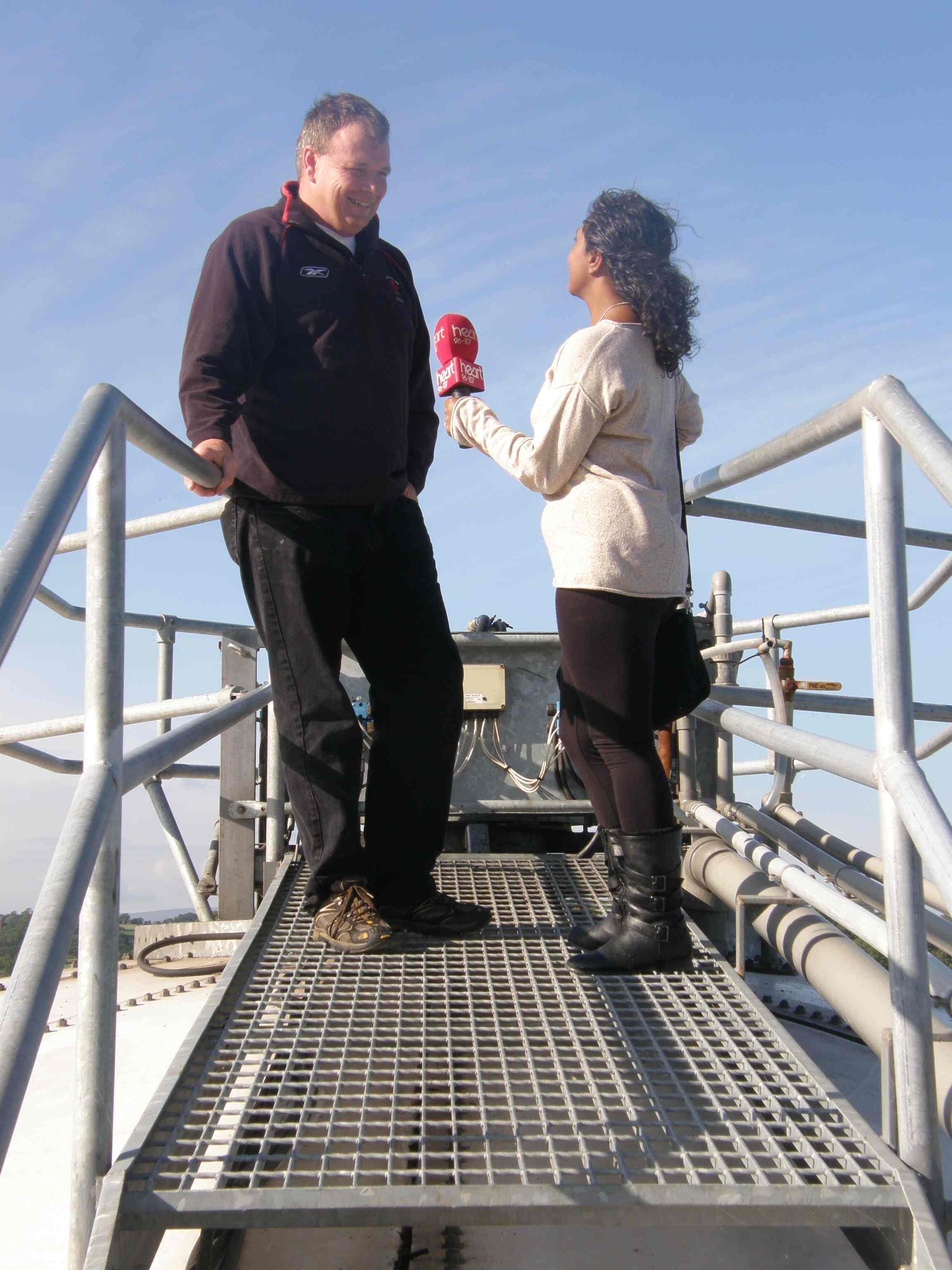 Richard Tomlinson, fifth generation family farmer at Lodge Farm and Managing Director of Fre-energy, the company Richard has set up to design, build and install the plants for other farmers, was interviewed by Heart FM reporter, Charlene Smith. Staff at the radio station had stumbled across the farm by chance and a subsequent visit to site confirmed their belief that here was a fantastic, local success story waiting to be told.
Richard and his team, comprising of brother and engineer Jonathan and technical guru Chris Morris, have developed an award-winning Anaerobic Digestion power plant, which processes farm animal waste to produce bio-gas which can then be converted into power, in the form of both electricity and heat. This renewable energy is suitable for use not only on the farm but can also be exported to the National Grid, enabling homes and businesses alike to benefit from the supply. The residual solid material, which resembles compost, and liquid material are applied to the farm's fields as highly nutritious and natural fertilisers, without incurring any of the costs, smells or environmental issues normally associated with the more common chemical fertilisers.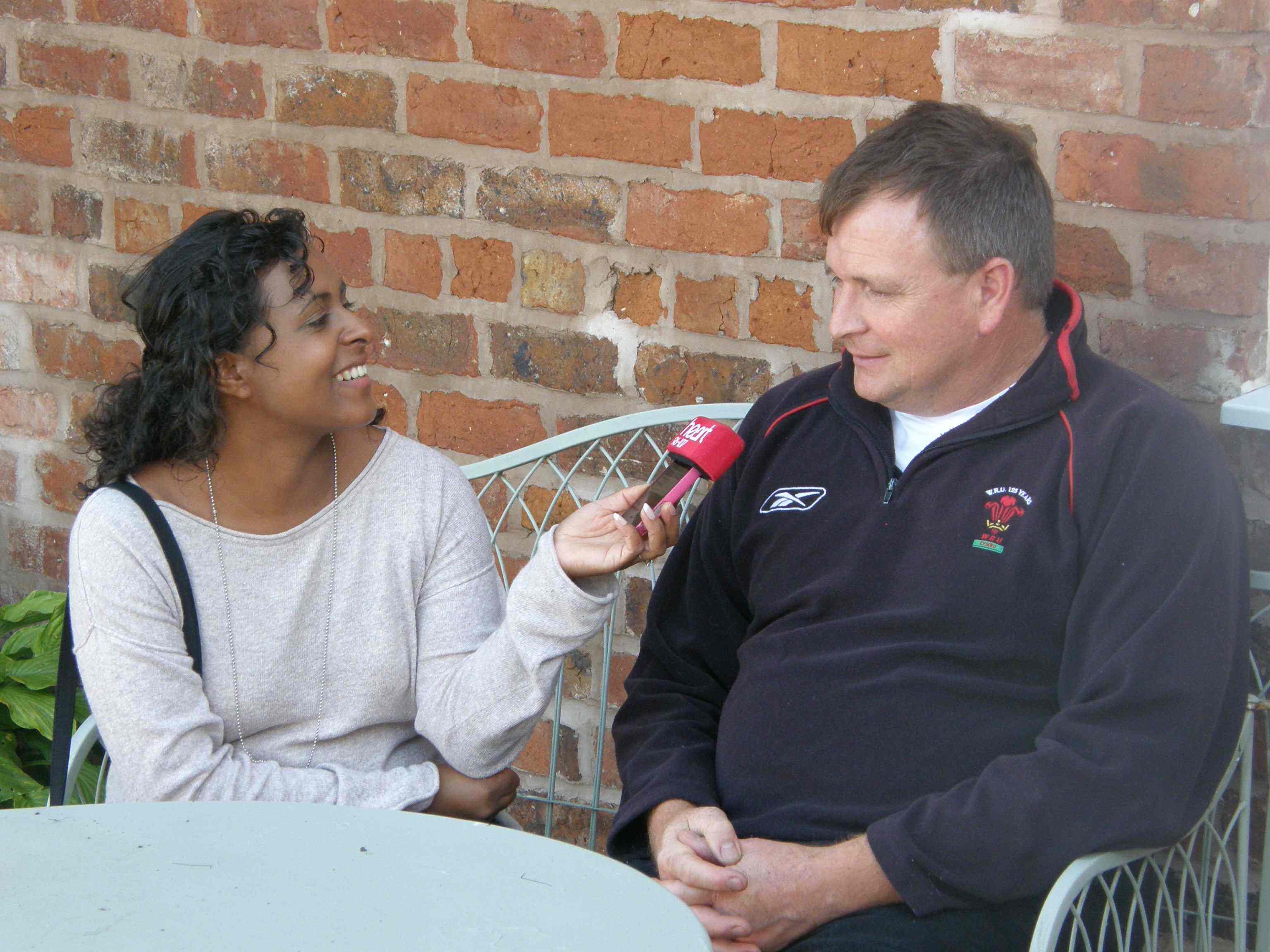 Richard told Charlene: "The plant at Lodge Farm has been in operation 24/7 for the past 4 years without a single hiccough and we now have plants in operation at 3 other farms around the UK. We have developed unique technology, for which both UK and, only this week US, patents have been awarded, to enable farms to process their slurry, which would otherwise have to be disposed of. Although Anaerobic Digestion plants are in use on thousands of farms elsewhere in Europe, none of these plants have been designed to deal with the problems associated with processing animal waste and many are therefore beginning to fail. As farmers ourselves, we have invented technology that is proven to work on farms."
Lodge Farm AD Open Day – book your free place now!
In conjunction with the Royal Agricultural Society of England (RASE), Fre-energy is hosting an Open Day on Thursday 17 October at its Lodge Farm Anaerobic Digestion plant in Holt, near Wrexham in North Wales. This event is open exclusively to farmers to see how AD can benefit their process operations and will include presentations from both the farm and technology provider, followed by a tour of the site and AD plant in operation.
Farmers attending the event, which starts at 10am, will also be able to join a Workshop taking place after lunch, which will focus on financial and site planning, permitting, feedstock evaluation and digestate and energy generation in greater detail.
The Workshop is being delivered by Fre-energy in its capacity as an invited participant in the European-wide Climate-KIC Knowledge and Innovation Community's 'biogas2market' programme which has recently been created by the European Institute of Innovation and Technology to develop sustainable 'cleantech' solutions to address climate change.
Places are limited and filling up fast and can be reserved by contacting RASE at: www.rase.org.uk/index.php/events
Further details on the day's agenda can be found here: Lodge Farm RASE Open Day (PDF)
June 2013
Unused energy sources could contribute to farm sustainability.
Parts of the British agriculture industry could be generating their own energy from a source right under their noses and make a valuable contribution to wider society while they're at it.
That's the conclusion of a PhD conducted by John Walsh, a student at Bangor University in conjunction with Fre-energy Ltd, a company based outside Wrexham, North Wales.
Processing cattle slurry through anaerobic digestion (AD) systems can not only resolve waste management on the farm, it can also reduce the farm's carbon footprint and provide a useful source of power for use or sale to the national grid. In addition, the digestate that is produced as a by-product can be applied to land as a very effective fertiliser, reducing the need for bought-in chemical fertiliser.
However, Dr Walsh's research, conducted with expert guidance from Bangor University's School of Environment, Natural Resources & Geography, was based on assessing the real cost-value of the largely unseen benefits of installing an AD system on a farm. The benefits of adopting the system may accrue not only to the farmer, but to the surrounding community and economy as a whole. This is because AD offers reduced CO2 emissions and can use waste that might otherwise end up in landfill sites, it reduces local odour and ensures cleaner waterways, among other benefits.
These non-market benefits are difficult to quantify, especially in monetary terms. Dr Walsh's task was to place a financial value to these, based on elements such as carbon trading prices and the costs of landfill. The research concluded that AD is considerably undervalued by current payment schemes as it delivers many more benefits than other forms of renewable energy.
The PhD was funded through the Knowledge Economy Skills Scholarships (KESS) Programme, in partnership with Fre-energy. KESS is a major European Convergence programme led by Bangor University on behalf of the HE sector in Wales. Benefiting from European Social Funds (ESF), KESS supports collaborative research projects (Research Masters and PhD) with external partners based in the Convergence area of Wales (West Wales and the Valleys). Both the Research Masters and PhD elements are integrated with a high-level skills training programme, leading to a Postgraduate Skills Development Award. KESS will run until 2014 and will provide 400+ PhD and Masters places.
John Walsh says the experience of working closely with a business was most beneficial. "I'm in favour of academic/industrial partnerships. I spent three months with the company, contributed to compiling an operational manual and feel I have a far stronger skills set as a result" says John. He is emigrating to Australia where he hopes to work in the environmental industry. He has two chapters from his PhD already published as academic papers, so it seems that studying the value of digestate is to lead to a bright future for John.
Dr Prysor Williams, one of Dr Walsh's academic supervisors commented: "It's important that we as academics are able to provide impartial information about the benefits and costs of measures that farmers take to reduce their environmental impact and also benefit wider society. The research has shown that AD is a true win–win system."
Richard Tomlinson, Managing Director of Fre-energy, said: "Fre-energy has been pleased to support John in this extremely important study identifying the economic and environmental value of digestate, the benefits of Fre-energy's highly efficient unique technology and what it represents for sustainable farming. Anaerobic digestion is a fantastic technology that helps answer the challenge that agriculture faces of feeding an ever-growing population as efficiently as possible and not through further depletion of resources."
March 2013
Welsh technology scoops waste recycling award
Selected as a finalist for the 2013 Organics Recycling Awards, Fre-energy Ltd based in Holt is delighted to receive their second accolade in as many years, to add to the award they received from the Anaerobic Digestion and Biogas Association (ADBA) in 2012. Organised by the Renewables Energy Association (REA), and held at the prestigious Heythrop Park Resort in Oxford, the award was accepted by Fre-energy co-founders Richard Tomlinson and Chris Morris amid attendance by delegates from leading waste and recycling industries.
Denise Nicholls of Fre-energy said "We are especially pleased that our technology has been recognised for the effective management of organic wastes. Operating as a closed loop system it allows the nutrients in these end-of-use materials to be recycled and put back on the land to grow food. These residual materials are a valuable resource and need to be managed responsibly". The unique auto de-gritting technology developed at the pilot plant based in Holt is the first system in the world designed to continuously process agricultural, industrial and municipal wastes, such as slurry, waste crops and food waste to generate electricity, heat and fertiliser.
A supporter of AD, the First Minister Carwyn Jones extended his visit to learn more about this ground-breaking technology when he toured Fre-energy's Lodge Farm AD plant. Key actions set by the CIM Sector Plan for Wales, identify the preferred option for the management of food waste is treatment by AD to produce a Quality Protocol compliant digestate (fertiliser), with the recovery and use of the resultant biogas to generate renewable energy or for use as a renewable fuel. The Fre-energy AD system is patented technology developed and built in Wales, and is perfectly placed to deliver these objectives.
Anyone who is interested in finding out more is invited to contact Fre-energy on 01829 270397 or email info@fre-energy.co.uk.
Fre-energy recognised the added value digestate had as a highly nutritious fertiliser and part funded a PhD student to evaluate the economic and environmental benefits.
Economic benefits of anaerobic digestion
Methane ('Biomethane')
Electricity
Heat
Vehicle fuel
Digestate (Biofertliser)
Unseparated:
Treated same as slurry
Separated:
Liquid fraction predominantly contains the nitrogen (injected into land)
Fibrous solid fraction predominantly contains the phosphate and potash
Renewable energy:
Energy security
Energy storage
John Walsh – based at Bangor University – undertook a three year real-time trial, using digestate from Fre-energy's AD plant located at Lodge Farm, to comparatively analyse the application of nitrogen, its uptake by plants (grass and clover) and its effect on yield.
Generation of plant available nutrients in arable land is the consequence of processes driven by the soil microbial community. A second study was to determine if digestate acts like an organic fertiliser or mineral fertiliser within the decomposer community after application.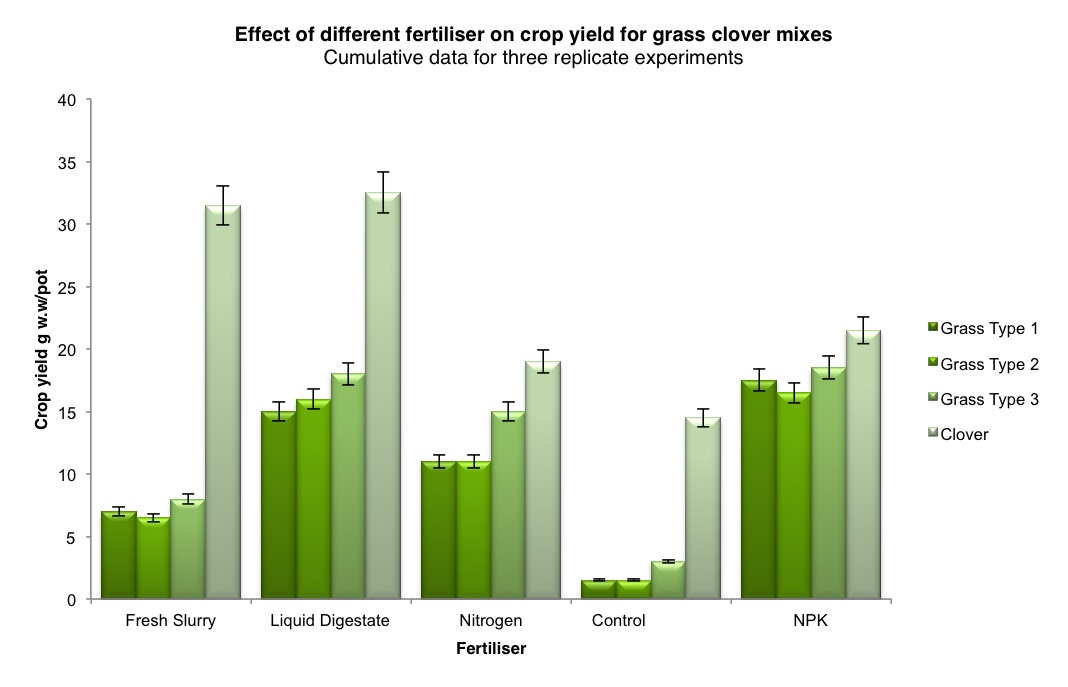 Results summary:
Digestate has the same crop yield as synthetic fertilizer at an application rate of 150 kg h-1.
Does not hinder clover growth as synthetic fertiliser does.
Reduces the need to purchase synthetic fertiliser.
It is important to understand the consequences of adding a new fertiliser to land. The application of digestate (bio-fertiliser) had no adverse effects on the decomposer community, therefore it can be treated the same as synthetic fertiliser. The added value of the pollution abatement properties and the recycling of nutrients economically supports sustainable fertiliser management.
Pollution Abatement properties identified
Greenhouse Gas (GHG) Emissions:

Agriculture produces large quantities of GHG:
CH4 from the live sector
N2O from fertilizer application
CO2 from various sources
For every kg of mineral N fertilizer produced
4.96 kg CO2 (equivalent) is released
For every kg of mineral P fertilizer produced
1.86 kg CO2e is released



CO2 savings from fertiliser replacement:

| | |
| --- | --- |
| | Every 150 kg of digestate applied ha-1 will replace 850 kg CO2e in the production of mineral fertilizer: 744 kg from N and 106 kg from P |
| | This equates to approximately 6 kg of N t-1 of digestate |
| | Therefore, a farmer would need to apply 25 t ha-1 to obtain 150 kg N ha-1 |



CO2 savings from capturing methane:

| | |
| --- | --- |
| | For every tonne of cattle slurry digested there is a reduction of 55 kg CO2e in emissions released to the atmosphere: At 25 t to the hectare that is a saving of 1,375 kg CO2e |

CO2 savings from electricity production:

| | |
| --- | --- |
| | 25 t of cattle slurry will produce approximately 513 m3 of biogas |
| | 513 × 2 kWh = 1,026 kWh |
| | Electricity production emits approximately 0.5kg of CO2 per kWh |
| | 1,026 kWh × 0.5 kg = 513 kg CO2 |
Potential total CO
2
e savings from using digestate 150 kg ha
-1
Source
CO2e saving
Percentage
GHG (cattle slurry)
1375
50%
Chemical fertiliser
850
31%
Electricity
513
19%
Total Potential savings kg CO2e
2738
This indicates the added value that AD has to offer the agricultural industry, further to reducing environmental emissions.
In addition to the financial incentives available (FiT's, LEC's, RHI), findings indicate that if 1% of cattle waste produced in the UK was processed through ADs, and the digestate used in place of chemical fertiliser, the following areas offer significant potential savings to the UK economy:
GHG reduction from cattle
Biological Oxygen Demand (BOD) - AD reduces up to 80% BOD
Pathogen removal

| | |
| --- | --- |
| | Mesophilic anaerobic digestion process kills Salmonella and E. coli O157 |
| | Many farmers have their own wells; there is the personal saving to the farmer of not having pathogens enter their drinking water |

Odour - AD reduces odour by up to 90%

| | | |
| --- | --- | --- |
| | Valuation formula: | (D-1) × H × (% drop in property price) |
| | | D = average number of households in a ½ mile radius |
| | | H = average house price |

Synthetic fertiliser currently costs approximately £340 t-1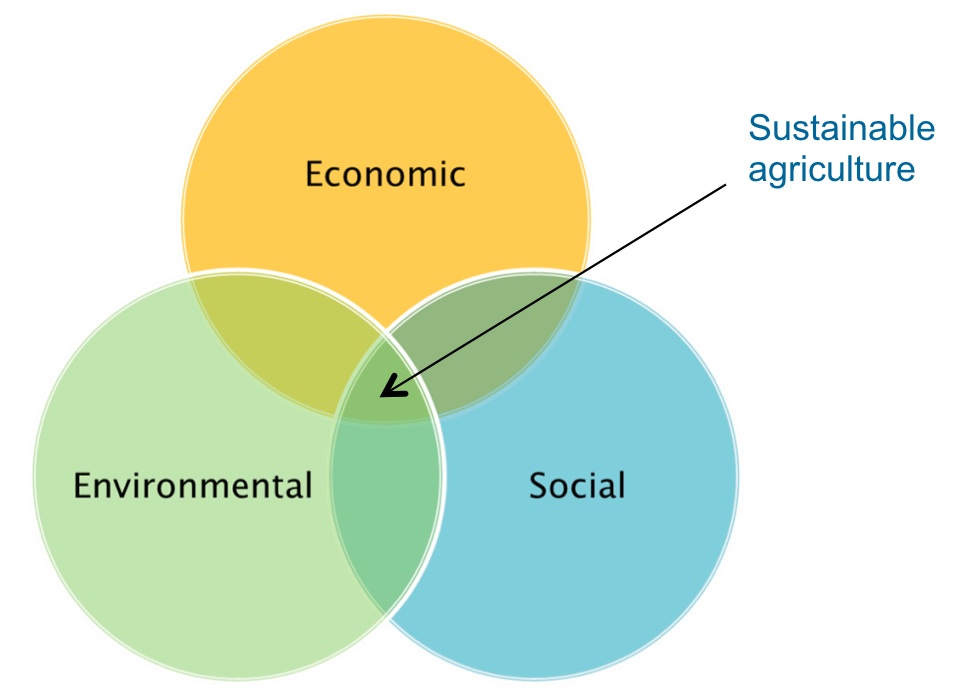 Fre-energy's Managing Director Richard Tomlinson said "Fre-energy has been pleased to support John in this extremely important study he's done identifying the economic and environmental value of digestate, the benefits of Fre-energy's highly efficient unique technology and what it represents for sustainable farming. Anaerobic digestion is a fantastic technology that, when used to recycle farm and food wastes, drastically reduces carbon emissions from agriculture while producing sustainable energy and an excellent natural fertiliser that does not deplete the planets critical amount of phosphate reserves. The answer to the challenge that agriculture faces of feeding an ever growing population lies in recycling the resources we are currently wasting and not depleting even more resources to be wasted."
September 2012
Welsh First Minister Carwyn Jones attended award winning, waste anaerobic digestion facility near Wrexham on Monday September 10th 2012, to celebrate recent UK industry award.
The Unique technology developed in Wales by Fre-energy Ltd is now fast gaining world recognition with our first order about to be shipped to North America later this autumn.
Lodge Farm digester has won a national industry award for the Best Integration of AD into a Farming Business; it is situated on one of the largest organic dairy farms in Wales and demonstrates how organic farming can produce comparable quantities of healthy food without the environmental impact of conventional farming. Fre-energy digesters have been designed on the back of 30 years experience of processing wastes, the technology is now recognised by the industry to be a world leader – This is Welsh technology, designed, developed and manufactured in Wales!
The ability of Anaerobic Digestion to reduce the carbon footprint of food production is immense; the renewable energy produced only represents a quarter of the overall carbon saving; 50% is down to the reduction in Green House Gas – namely methane – and 25% linked to the reduced reliance on man-made fertiliser (it takes 7 tonnes of fossil fuel to make 1 tonne of nitrogen fertiliser).
There is a significant reduction in the environmental impact of animal slurries and food waste treated through AD, by the reduction of both Biological Oxygen Demand(BOD) and nitrate leaching into water courses.
AD put simply, is farm slurry storage with a roof on to reduce methane emissions and the odour associated with farm wastes. The visual impact is negligible when compared to large wind turbines and unsightly solar panels. Because AD best suits small scale local energy production it does not require large infrastructure changes to the National Grid (Pylons) and the public focus that that attracts (NIMBYism). The ability of AD to produce significant amounts of electricity for the Welsh economy without the planning or social issues that is currently overshadowing wind and solar is immense.
AD supports the agriculture sector by facilitating an alternative income stream that is non-food related but is derived from the wastes created by food production.
There are currently 110M tonnes of organic waste produced in the UK of which 90M tonnes are situated on farm in the form of animal slurries and manures. These farm wastes when mixed with food wastes (~15% of UK total waste) have the potential to produce 5% of the current UK energy requirement.
AD is a local energy solution that is best suited to a rural environment as 100% of the output is returned back to the land as fertiliser. Co-digestion, which is a mix of animal slurries and food waste, is now widely recognised throughout Europe as best practice. Large centralized digesters just processing food wastes are a box ticking exercise for Local Authorities to demonstrate a reduction in landfill to meet recycling targets, in practice this is nothing more than an embarrassing waste of resource and tax payers' money. The existing centralized waste digesters in the UK are generally struggling due to process issues (silting and/or foaming), or are having great difficulty meeting the PAS110 regulations, resulting in the end product often still being sent to landfill.
July 2012
ADBA (Anaerobic Digester & Biogas Association) 2012 Award
We are delighted to announce that we have won the professional industry ADBA (Anaerobic Digester & Biogas Association) 2012 Award for the "Best Integration of AD into a Farming Business" for our installation at Lodge Farm near Holt, Wrexham.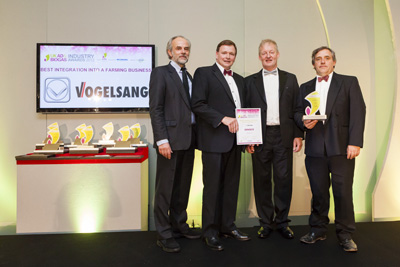 Judges commented "…a clear demonstration of the benefits which AD brought to the farm", as well as being "impressed by integration [of AD] into an organic farming system" and commending the "innovation around de-gritting and foam prevention".
The unique integral auto de-gritting technology facilitates the processing of wastes routinely generated on farms (slurry, chicken litter etc) as well as those generated throughout the food industry; from manufacture, supply and the end user. Conventional anaerobic digesters are designed to process crops to produce energy but are unable to manage routine waste streams that amount to approximately 110 million tonnes annually in the UK. The Fre-energy AD system represents a new generation of anaerobic digesters, turning waste into energy.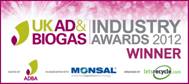 Richard Tomlinson, our co-founder and Managing Director said:
"This is a unique system that can be located on farms to efficiently manage wastes to produce a high quality biofertiliser and constantly produces energy; basically it closes the carbon loop to get nutrients back on the land. This award is a welcome accolade."